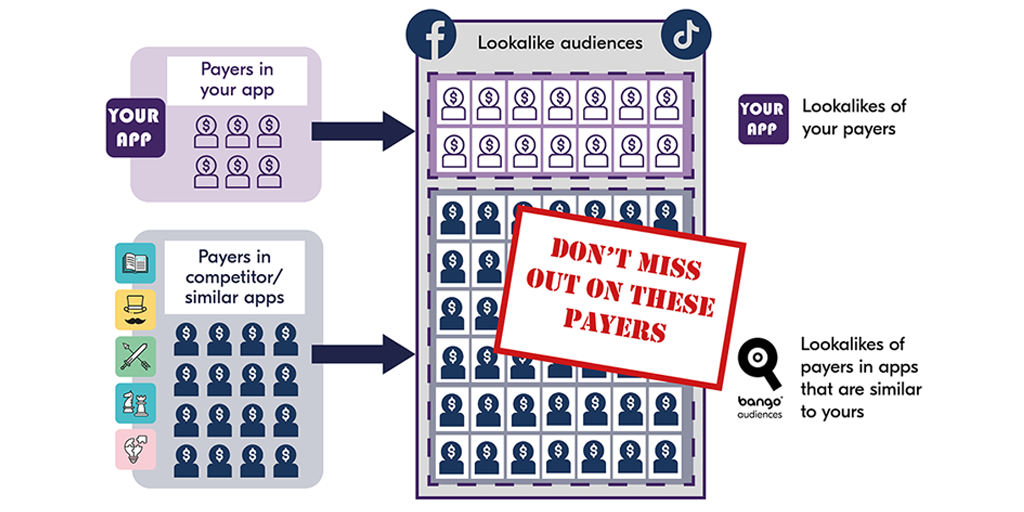 blogs


January 28, 2022 - Guy Singh
How to create lookalikes from a source audience comprised of users who pay in similar apps to yours
Most app marketers running user acquisition campaigns use a tried and trusted technique for targeting users. They know the common characteristics of their user base and use that to build a profile of similar users to target. Facebook calls these 'lookalike audiences'. It's a very effective way of targeting your campaigns to the users who are most likely to install, engage and hopefully, pay in your app.
As a quick recap on Facebook lookalikes: To find premium users to target your ads to, a source audience of users who have already paid in your apps is supplied to Facebook's lookalike audience production feature. Facebook's machine learning algorithm is optimized to find users similar to this source audience. This is a really effective way of finding more payers, but it misses out on a much wider set of users that are likely to pay in the app.
Imagine if you could target users who pay in similar apps to yours. What if it were possible to create lookalikes from a source audience comprised of not only users who pay in your apps but also those who pay in similar apps to yours? What if you were able to build a lookalike from payers in your competitors apps? That's exactly what Bango Audiences offer today.
By creating lookalikes only from your own payers, you are limiting your reach to a small part of the total market of users who are likely to install and pay in your app. The profile of the user that you supply to Facebook limits the capability of the lookalike algorithm to only find users similar to the ones you already have. A smarter way is to broaden the targeting reach to users who are similar to all the apps in your category. To illustrate the point, take a look at the graphic above which shows why you are missing out.
Bango Audiences provides an easy way to do this. The entry point is simple. Give us the name of your app, some similar titles and we do the rest. We provide a custom audience which can be shared to your Facebook account without any integration, it just slots into your existing campaign, or one that you can run alongside the existing ones. The big difference is that you will reach a wider set of users likely to pay in your app. There's nothing to lose in trying a Bango Audience today, so why limit your reach to just a small section of premium users?