From 1, January 2024, the Unity pricing structure will move from a fixed monthly fee for their services to a much more intricately designed model, seeing developers charged on a per install basis.
The new pricing model is anything but clear cut, with lots of nuances and details on the fees based around monthly revenue, quantity of installs and the country of installs. See the below table Unity included in their announcement.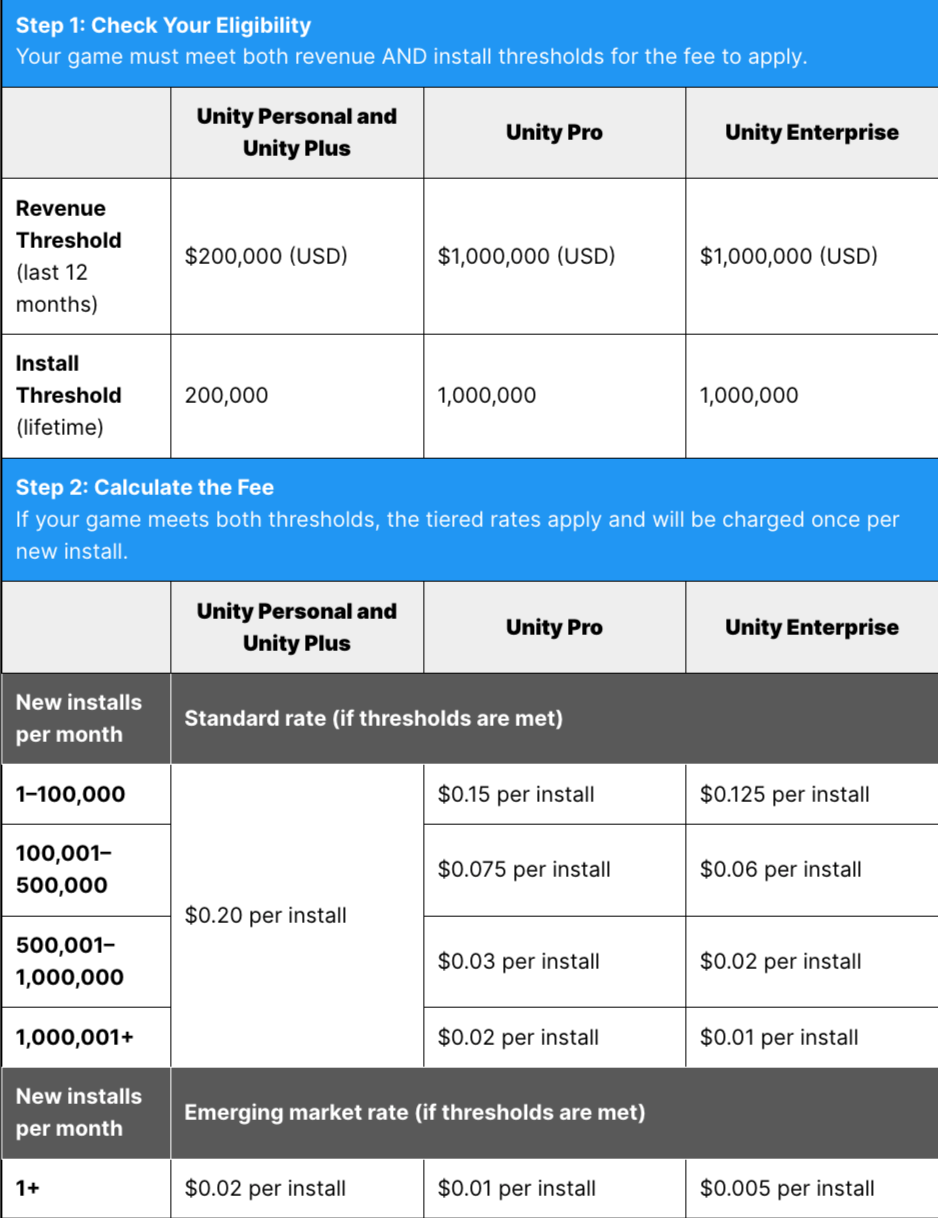 Image: Unity
Lack of unity
The news has not been received well by the industry with Unity already backtracking on some of the details and having to clarify confusion. Price changes are expected and happen relatively frequently, but no one was expecting anything this drastic.
Both smaller developers and those with primary monetization coming from In-App Advertising (IAA) will be hit the hardest.
Alternatives? The next biggest gaming engine is probably Unreal Engine but that is likely overkill for most mobile game developers, especially hyper-casual.
Will this pricing change help to grow Unity's revenue, absolutely! However, is this revenue growth more important than the impact this may have on the wider industry? Only time will tell.
Is there a future for In-App Advertising monetization?
A download without a sale will still be charged. This raises immediate questions around the future of the hyper-casual genre which is completely reliant on acquiring a large volume of installs at the lowest CPI possible.
With rising User Acquisition (UA) costs over recent years, this is already difficult to do successfully. Having to factor in an additional cost on every install you acquire, regardless of whether it comes from paid UA or organic, will make a hard job even harder, and could spell the end for many.
It won't just be hyper-casual games that are affected. Generally, all apps that are primarily monetized through IAA are going to be impacted due to the lower LTV of the users. Profit margins will be reduced by varying amounts dependant on the geo's being targeted.
The biggest unknown is if apps are able to survive in the long term without having to include In-App Payments (IAPs). Is it possible to net out a positive ROAS with IAA after incorporating these additional fees?
What are the options?
This recent news will no doubt have app developers scrambling to find new ways to grow user LTV to help cover this additional cost. Potential options include implementing IAP's or through a higher quantity or cost of IAP's.
If all developers shift to the IAP monetization model, can gamers afford to keep the studios afloat by paying in all the games they currently play? Unlikely.
Unity have assured customers that while their previous downloads and revenues will be taken into account to define their fee tier, the new pricing will only apply to downloads made after the 1 January, 2024.
An initial focus will no doubt be to increase LTV and retention numbers as quickly as possible before this change comes into effect. Or alternatively, spend as much as possible in Q4 to increase installs while the existing Unity pricing model is in place.
Considering the typically high UA costs in Q4 anyway, the latter may be quite limited but a two-pronged approach will need to be considered to be as prepared as possible to minimize the negative effects.
Value over volume?
Paid UA will need a significant review to ensure that targeting is as effective and aligned to the business goals as possible moving forward, with KPIs harder to achieve. The specificity of targeting is going to need to increase to help ensure the most relevant users are being acquired, to in turn increase LTV's.
However, with broad targeting becoming much more widely recommended and adopted for social UA activity, is it time to take back control of your UA activity? Will running broad AAA campaigns on Meta drive the incremental growth you need to combat these Unity changes?
My guess is no, and it will be those UA managers who are thinking outside the box and going against the norm that will come out on top.
Will Unity back down or is this the new norm?
With Unity being the engine behind approximately 70% of mobile games, will this change allow other players to come in, offering more reasonably priced solutions so they can gain market share and increase competitiveness in this space?
I would definitely like to think so. There will be thousands of app developers questioning their position at the moment, contemplating alternative game development engines and it will be interesting to see who can react fastest with the best offering.
With some developers roughly calculating a cost increase of 80,000%+, this could have a much larger knock on effect for the wider gaming industry and game development.
Spare a thought for those who have recently started development on new games within the Unity platform. Is there scope to pause development and move to a new engine before development is too far along and you end up trapped?
Unity must think that their market share and position of dominance is enough to give app developers no choice but to remain on their platform, even with the increased costs.
Maybe they're right and this will become the new norm. Either that or an imminent delay announcement can be expected while they reconsider amidst the backlash (see IDFA and Google Cookie deprecation). We hope so!